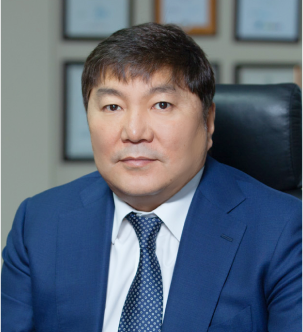 Zhulamanov Bakitzhan Tolevzhanovich
Chairman of the Management Board of "Samruk-Energy" JSC
September 24, 2018 by the decision of the Board of JSC "Samruk- Kazyna" (protocol number 27/18) was elected as a member of the Board of Directors.
Citizenship: Republic of Kazakhstan
Date of birth: 23.12.1966
Education:
in 1991 he graduated from the Kazakh Polytechnic Institute named after V.I. Lenin, major- economist, D.A.Kunayev Humanities Institute, major - lawyer.
Work experience:
He began his career in 1991 as an economist, head PFO RPE "Geosystem"
From 1991 to 1993 - chief accountant of the brokerage firm "Galaxy." 1993-1998 - Deputy Director, Director of "Asetan" JSC.
In 1998-2003 - President of "Agroindustrial Corporation Golden Grain" LLP, President of "Golden Grain Group" PJSC.
From 2003-2004. - Acting head, head of the housing department of Astana city.
From 2004 to 2005 he was the head of the department for the management of subordinate organizations under the Administrative Directorate of the Republic of Kazakhstan President;
2005-2007 - Director of the MUS "Almaty zher".
Since 2007 - Managing Director of "Eximbank of Kazakhstan" JSC.
2007-2009 - Deputy Chairman of the Board of "Trest Sredazenergomontazh" JSC.
2009-2011 – mayor of Pavlodar city, from 2011 to 2016 - the head of Tourism Administration of Almaty city.
2016- 2018 gg. - Chairman of the Management Board of "Prodcorporation" NC.
From May 25, 2018 - Acting Chairman of the Management Board of "Samruk-Energy" JSC.
From July 27, 2018 - Chairman of the Management Board of "Samruk-Energy" JSC.
In 2001 he was awarded "Kurmet" order