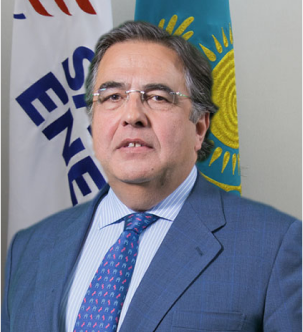 Joaquin Galindo Velez
Independent Director
Elected as independent member of the Board of Directors on June 24, 2019 by the decision of the Board of JSC "Samruk - Kazyna" (protocol number 20/19). Chairman of the Committee for occupational health and safety and environmental protection; Chairman of the Appointment and remuneration Committee; member of the Audit Committee of the Board of Directors; member of the Strategic planning Committee.
Citizenship: Spain
Date of birth: 1957
Education:
Industrial Engineer by Seville Engineering School Bachelor´s Degree in Business and Economics by UNED University (Madrid)
MBA by Deusto Business School (Bilbao)
Work experience:
2009 – 2015 - ENDESA Chile S.A. CEO Chile, Chief Executive Officer
2008 – 2009 - ENDESA S.A. Deputy General Manager of Spain & Portugal Spain
2006 – 2008 - ENDESA Italia SpA. CEO Italy, Chief Executive Officer
2004 – 2006 - Société Nationale d'Eléctricité et de Thermique (SNET) S.A. CEO France, Chief Executive Officer
2001 – 2004 - ENDESA Italia SpA. Production & Engineering Manager Italy
1998 – 2001 - ENDESA Generación S.A. Non- Mainland Generation Manager Spain, Production Manager of Baleares, Canarias, Ceuta y Melilla electrical systems.
1989 – 1998 - AIE Sevillana-ENDESA Los Barrios Power Plant. General Manager Spain
1983 – 1989 - Sevillana de Electricidad S.A. Production Manager Los Barrios Power Plant
Participation in the Board of directors:
Endesa Costanera S.A. Chairman – Argentina (2,200 MW). Listed in Buenos Aires Stock Exchange
Hidroeléctrica del Chocón S.A. Chairman – Argentina (1,400 MW)
Central Dock-Sud S.A. BoD member – Argentina (850 MW)
Endesa Brasil S.A. BoD member – Brazil (1,000 MW)
EMGESA S.A. BoD member – Colombia (3,500 MW)
EDEGEL S.A. BoD member – Peru (2,000 MW). Listed in Lima Stock Exchange
Foreign languages:
Spanish – native speaker, English – fluent, French – fluent, Italian – fluent.
Does not own the Shares of the Company, suppliers and competitors.