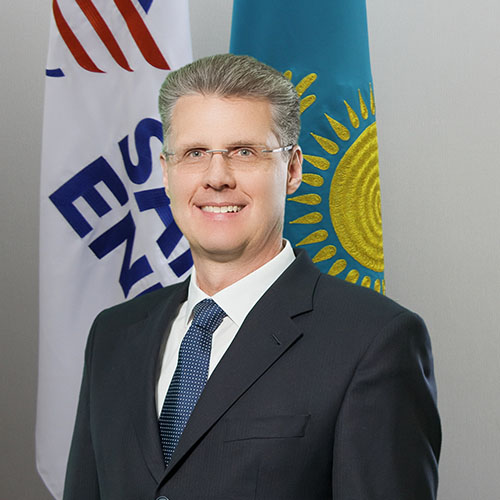 Andreas Stoerzel
Senior independent Director
Andreas Stoerzel – Executive Director Market Design, NEOM, Saudi Arabia.
Elected as independent member of the Board of Directors on June 24, 2019 by the decision of the Board of JSC "Samruk - Kazyna" (protocol number 20/19). Independent Director, the Strategic planning Committee Chairman; member of the Appointment and remuneration Committee; member of the Committee for health, safety and environmental protection; Chairman of the Audit Committee of the Board of Directors.
Citizenship: Germany
Date of birth: 12th of October 1963
Education:
Master of Business Administration, Open University, Newcastle Upon Tyne, UK
Doctor of Philosophy (Ph.D.) in Geophysics, University of Wyoming, Laramie, USA
'Diplom' in Geophysics (MSc.), Goethe University, Frankfurt am Main, Germany
Work experience:
2019 VP Business Development, Grid & Infrastructure, innogy SE, Germany
2014 – 2018: CEO, innogy Middle East& North Africa Ltd, Dubai, United Arab Emirates
2012 - 2014: CEO, RWE Middle East Ltd, Dubai, United Arab Emirates
2009 - 2011: Commercial Director, RWE Generation SE, Essen, Germany
2007 - 2009: Director Corporate Development and M&A, RWE npower plc, Swindon, UK
2003 - 2006: Head of Strategic Projects, RWE AG (Corporate Headquarters), Essen, Germany
2002 - 2003: Senior Project Manager M&A, RWE Plus AG, Essen, Germany
2000 - 2001: Management Consultant, Arthur D. Little Int. Inc., Duesseldorf, Germany
1998 - 2000: Senior Geophysicist, E.ON, Essen, Germany
1995 - 1998: Geophysicist, BP, Denver / Houston, USA
Does not own the Shares of the Company, suppliers and competitors.