The goal of Transformation Program project is 30% reduction of occupational injury rate figures.
The third wave of the project for the introduction of the new integrated safety management model of "Samruk-Energy" JSC Transformation Program includes "Almaty Power Plants" JSC (AlES), "Alatau Zharyk Company" JSC (AZhC) and a solar power plant of "Samruk Green Energy" LLP (SGE), which employs more than 6 thousand people. The new approaches aim to enhance safety culture and reduce occupational injury rate by preventing incidents.
The start of "the introduction of the new integrated safety management model" project's implementation was announced at the kick-off online meeting with the participation of senior executives of the energy holding company and supervisors of "Samruk-Energy" JSC subsidiaries, who are responsible for workplace safety issues.
"I would like to highlight the significance of occupational health and safety issues. This project is under special control of Akhmetzhan Yesimov, the Chairman of the Executive Board of "Samruk-Kazyna" SWF JSC. The sponsor of the project at "Samruk-Energy" JSC is also the chief executive officer Chairman of the Executive Board Bakitzhan Zhulmanov", - said Yedil Kopenov, the Project Co-sponsor, Managing Director for Business Transformation.
The project involves the introduction of new standards and practical tools that will enable power plant employees change attitudes towards compliance with safety rules, raise awareness and change outdated attitudes.
Practice has shown that risk prevention works allow avoiding accidents at work. Six accidents were reported across "Samruk-Energy" JSC group of companies over the first half of 2020, while seven sad events occurred at enterprises, one of which with fatal outcome during the same period of 2019. A transparent incidents reporting system has been introduced since 2019, as part of which potentially dangerous incidents that result in an injury are recorded and examined. The responsibility for concealing accidents has also been strengthened, and monetary incentives are provided for reporting potentially dangerous situations. 16 potentially dangerous incidents were reported and investigated during the first half of 2020. 23 incidents were reported over the same period of last year.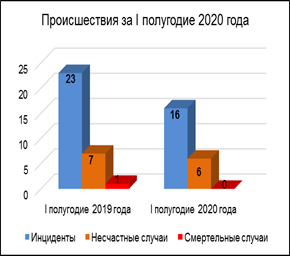 According to Tulegen Maxilov, the project manager, head of Health, Safety and Environmental Protection Department, occupational injury rates are planned to be reduced at enterprises by 30% during three years after the project's implementation.
"It is essential that a high-quality analysis of possible risks is conducted at a production facility. The work should not involve a bureaucratic approach. The introduction of a transparent reporting system, a proactive approach to occupational safety issues are crucial tasks in the project implementation", - Tulegen Maxilov told.
The first wave of the project for the introduction of the new integrated safety management model was completed in 2019 at the Head Office of "Samruk-Energy" JSC, "Ekibastuz SDPP-1" LLP, "Moynak HPP" JSC, "Shardarinsk HPP" JSC. The second stage of this project will be introduced at "First Wind Power Plant" LLP and "Ekibastuz SDPP-2 Plant" JSC by the end of 2020.